Knowing how to check the transmission fluid in your vehicle is an important part of automobile ownership. Without proper care, your transmission system could fail, resulting in expensive damages. One easy way to prevent transmission failure is by ensuring that the fluid is clean and functioning properly. The cost of replacing the transmission fluid is low compared to the cost of replacing a damaged transmission system.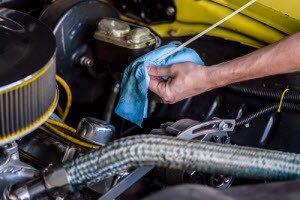 At Pecheles Toyota, we want our Washington, Greenville, and New Bern customers to know how to check the transmission fluid in their vehicle, and whether or not they should schedule a service appointment.
The steps below will help you inspect the transmission fluid on an automatic transmission system. If your vehicle is equipped with a manual transmission, please contact our service department for additional information. You may also reach out to us if you have any questions or concerns about your transmission system.
How to Check an Automatic Transmission System
In order to check the transmission fluid, you'll first need to locate the transmission fluid dipstick. This dipstick is usually located near the engine, under the hood. The owner's manual should detail where you can locate the dipstick. For manual transmission cars, the vehicle may need to be lifted in order to access the drain plug underneath the vehicle.
The next thing you'll need to do is start the engine. Allow the engine to run for a few minutes so that the car has a chance to warm up. This is an important step since you'll also be checking the thickness of the transmission fluid, also known as its viscosity.
Make sure the vehicle is parked on a flat surface and that the parking brake is on. Leave the engine running for about 5 to 10 minutes before you pull out the transmission fluid dipstick. While checking the transmission fluid, be sure to keep the engine running for a more accurate reading.
Once the vehicle is securely parked, open the hood and locate your transmission fluid dipstick.  If your vehicle is equipped with front wheel drive, the dipstick may be in a different place than if it was a rear-wheel drive vehicle. If you're having trouble locating the car's dipstick, please contact our service department.
If you were able to locate the dipstick, you can now pull it out with the engine still running. Wipe the dipstick with a clean, white rag and inspect the fluid. Does it smell or look burnt? If so, you could need new transmission fluid.
Checking to See if You Need More Transmission Fluid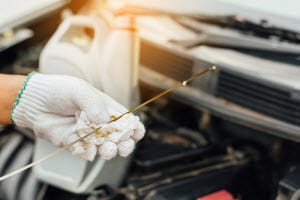 New transmission system fluid should be red in color and somewhat transparent. This bright color makes it easier to spot if you have a problem, which is important because the transmission system is a vital part of the vehicle. Dark red or brown transmission fluid may be burnt; in which case, it won't work nearly as well. Fluid in this state should be replaced soon.
There are a few signs that your transmission fluid may need to be replaced. For example, if it smells or looks burnt, this is an indication that the transmission fluid has broken down and is no longer working properly. Another sign that the fluid needs to be replaced is if it's sticky or full of debris. These are all indications that the fluid need to be replaced right away.
You're now able to check the amount of fluid inside the system. Keep in mind that burnt or broken-down transmission fluid should be replaced whether or not there's enough fluid in the system. However, if the fluid is clean and low, you may be able to add additional fluid.
To measure how much transmission fluid is in your system, just wipe the dipstick off with a towel or rag and dip it back into the transmission. Then, pull it out slowly and read the level at the end of the stick. Add more fluid if needed, but be careful not to overfill.
Schedule Transmission Service Today
Need transmission service? Drivers in the Washington, Greenville, and New Bern areas can get expert transmission maintenance at the Pecheles Toyota Service Center. Our certified technicians have years of experience working on all different types of transmission systems. No matter what the trouble, we can keep your transmission running like new. Schedule your appointment today!