Washington, Greenville, New Bern and the surrounding areas of Beaufort County are home to some of the most gorgeous scenery and fun activities in North Carolina. You'll want your car to look its very best on all your drives through the area, and you might be wondering, where can I find car detailing near me? The answer is Pecheles Toyota-our service center offers all the detailing services your vehicle needs.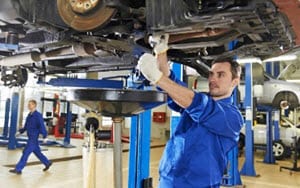 Experience Beaufort County
Explore the gorgeous scenery of the area's waterways by taking a trip with the Island Express Ferry Service. You'll make your stop at one of many destinations. Stop at Shackleford Banks, and you'll be able to go get a glimpse of the famous exotic wild horses, go fishing, camp for the night, and more. Head to Cape Lookout Lighthouse to explore the lighthouse and expansive beaches. Prepare for a day of adventure and exploration!
Get a look at North Carolina's third oldest town, Beaufort, originally a fishing village and port of safety founded in the 1600s. The site is home to at least 150 restored homes and the Beaufort Historic Site, which gives a glimpse at North Carolina coastal life in the 18th and 19th century. You'll be able to take a guided tour of the site, seeing the Carteret County Courthouse, the old jail, apothecary and doctor's office, and a few restored homes.
Car Detailing near Me
If your car needs a facelift, you'll want to opt for one of our dealership's detailing services to get it in like-new condition for your drives. Having your car detailed will extend its life and increase its resell value since it will stay in the best possible condition for much longer.
 Here's a list of some of the detailing services on offer at our service center:
Vacuum: Remove debris that tends to build up in your car from tracking in dead leaves, dirt, and all manner of other things that get stuck to your shoes.
Shampoo: Remove lingering unpleasant smells from pets or a previous owner with a full shampoo of your car's upholstery.
Exterior Detailing: An exterior detailing service will provide your car with a thorough cleaning, including getting the wheels nice and shiny and removing tar from the vehicle. Your car's paint will be carefully polished and waxed to maintain a stunning shine and keep the paint protected from the elements.
Fabric or Leather Protection: Keep your upholstery in like-new condition by giving it a treatment to prevent staining.
Schedule Car Detailing at Our Service Center 
Ready to give your car the makeover it deserves? Our service center technicians can perform a variety of cleaning and protective services to keep your car looking and feeling shiny and new. If you have any questions about our services, don't hesitate to contact us and speak with our experts about what you can expect and what your car may need. Once you've decided on a service for your car, contact us to schedule your appointment. We can't wait to get your vehicle looking like new again!