Depending on the type of automobile, drivers are looking for a certain combination of substance and style. For example, with a coupe or a sedan, they might want all style and no substance; or, for an SUV, they might want all substance and no style. But, we don't believe that you should have to choose one.
The Toyota Tacoma is the pickup truck that has all the substance that you need and all the style that you want. Best of all, it's available to folks in Washington, Greenville, and New Bern.
Strong Tacoma: There's Nothing as Important as Towing & Performance.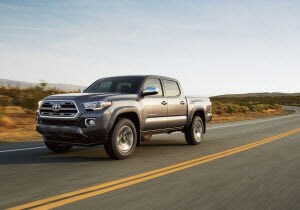 We'll repeat that adage for you one more time: There's nothing as important as towing and performance. That's because we're talking about a truck. Not a sedan. Not an SUV. A truck, people.
When it comes to the 2017 Toyota Tacoma, you've got practically limitless power. Here's an overview.
High-strength steel: It's built with materials that are far lighter and stronger than conventional steel.
3.5L V6 direct injection engine: 278 horsepower and 265 lb-ft of torque, right at your command.
6-speed automatic transmission: With the Toyota AT, you get unparalleled performance and efficiency.
6-speed manual transmission: With the Toyota MT, you'll have ultimate control of every single shift.
Maximum towing capacity: When equipped with the Tow package, you can handle up to 6,800 pounds.
Maximum payload capacity: When similarly outfitted, you can haul as much as 1,440 pounds, too.
3-piece rear bumper. What are the benefits? Better durability, and simpler maintenance. 'Nuff said.
Trailer-Sway Control (TSC): Included in Tow package, it prevents the trailer from dangerously swaying.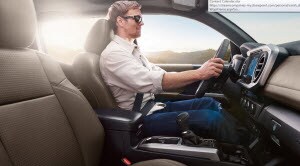 By now, you're reasonably familiar with some of the tough, versatile systems that the 2017 Toyota Tacoma lets you take advantage of. The only question remaining is what you're going to do with them. Will you just drive down the road casually, or are you going to get out there and start towing for real?
Toyota Tacoma Colors: Cause There's Nothing Wrong with a Little Style, Either.
Although all that heavy stuff is the main dish, that doesn't mean that you can't have something on the side, too, some light fare. That's where the Toyota's various attractive paint jobs come in.
We do have to say that the available colors vary by model. With that in mind, here are some of your options: Blazing Blue Pearl, Super White, Silver Sky Metallic, Magnetic Gray Metallic, Black, Barcelona Red Metallic, Quicksand, Inferno, and Cement. We encourage you to check out our new inventory at Pecheles Toyota as soon as possible, so that you can figure out which Tacoma models we have on deck.
Schedule an Exclusive Test Drive Today at Pecheles Toyota. Don't Wait!
If you live in Washington, Greenville, or New Bern, then the world is yours. Or, rather, the world of the 2017 Toyota Tacoma is yours! Contact us at Pecheles Toyota right away to set up your test drive.