Despite there being so many different types of engine oil on the market, they all fall into two key categories: conventional oil and synthetic oil. Though they may appear the same, they're actually quite different.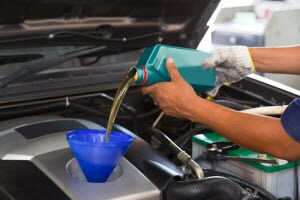 We know that not all Washington, Greenville, and New Bern drivers are familiar with the differences. The Pecheles Toyota team is here to remedy that.
Understanding Where Your Engine Oils Come From
Conventional and synthetic engine oils tend to vary so wildly because of where they come from. Conventional is a close cousin to crude oil since it's pulled from the ground, and then later modified to flow properly under the hood.
Synthetic oil, on the other hand, is essentially manufactured oil. It does have some basic commonalities with conventional oil. Overall, though, it's been greatly enhanced for added lubrication and strength. There's very little that can break down synthetic oil.
Ultimately, these differences in where they come from lead to differences in the prices of your engine oil. With both, you're getting what you pay for. Synthetic is a little bit more protective, so it's naturally more expensive. Conventional oil, however, may help save you a few bucks.
Specific Climates Need Specific Oil
Think about the climate where you live. Do you experience blistering heat in the summer? Icy, cold temperatures in the winter? Though you might not think it, these polarizing temperatures can really mess with your engine oil.
Conventional oil, being so close to crude oil, does tend to break down in the heat. Likewise, its viscosity is altered in the cold. When this happens, your engine oil may not be able to flow through the engine correctly, leading to dry components and added friction.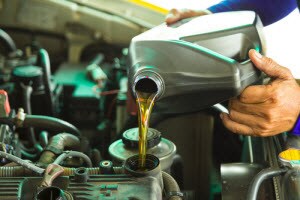 Synthetic oil was designed to withstand these temperature changes. So, depending on your local climate, it may be the better choice.
Don't Let Hard Driving Ruin Your Oil
All these other factors notwithstanding, you still need to be aware that hard driving can also affect the way your oil breaks down. After all, hard driving does equal extra friction under the hood. We know how some oils fare under those conditions.
Since conventional oil breaks down quickly in temperature extremes, it's not hard to imagine that it breaks down just as quickly in a hard-working engine. Towing or turbocharging can both break down conventional oil rapidly.
In these cases, there's no doubt that synthetic oil is the better choice. Since it was manufactured and not pulled from the ground, it has the benefit of added longevity. Again, that's part of why it's more expensive.
Don't Delay on Your Next Oil Change
Essentially, engine oil is the lifeblood of your car. So, choosing the right kind will undoubtedly impact the car's performance.
Washington, Greenville, and New Bern drivers shouldn't allow their car to suffer from the wrong engine oil. The next time you need a change, just contact the Pecheles Toyota team. We'll ensure that your car has the right oil to run at peak performance. Schedule your next oil change